한강 홀뎀 포커 런
11월 1일 토요일 오후 3시 MMMG 이태원에서 맥파이 홍대 까지 한강을 따라 자전거를 함께 타고 갑니다. All Rhoads Customs과 밀리미터밀리그람, 맥파이에서 함께 기획한 포커 런은 시작점과 도착점을 포함해서 총 5 군데 지점에서 한장의 카드를 뽑고 5장의 카드로 가장 높은 포커조합을 완성한 승자에게는 상품이 주어집니다. 상품은 프라이탁의 자전거 툴 케이스 F154 GRANGER!
총 15km 거리를 편안한 속도로 함께 달리면서 각 지점에서는 특별한 이벤트가 함께합니다. MMMG 이태원에서는 간단한 음료과 스낵, 한강변에서는 재미있는 게임과 상품, 마지막으로 맥파이 홍대에서는 시원한 맥주와 피자가 준비됩니다.
참가비는 만원. 신청은 All Rhoads Customs, MMMG 이태원과 맥파이에서 지금부터 하실 수 있습니다.
당일 헬멧 착용과 자전거용 조명 사용을 권장합니다. 원하시는 분들은 홍대 맥파이에 자전거를 두고 가신 후 다음날 가져가실 수 있습니다.
Let's ride!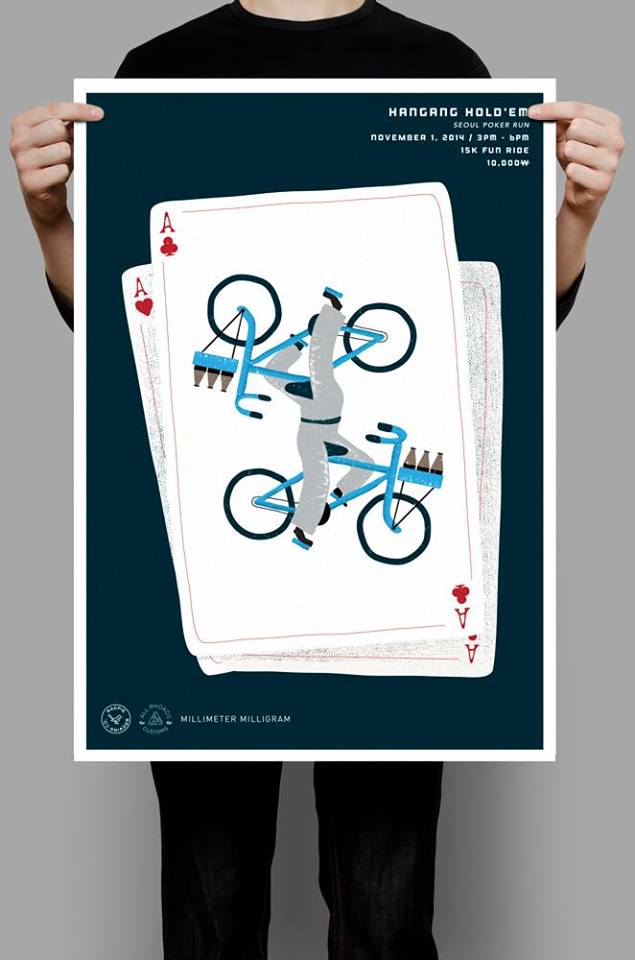 Do you want to have a little fun? Grab a bike and come out for a group ride. We will start at MMMG and All Rhoads Customs in Hannam at 3 p.m. and finish at Magpie in Hongdae around 6 p.m. There will be a total of five stops or checkpoints throughout the ride. This is called a poker ride because at each location the rider draws poker card, and at the end of the ride the person with the best poker hand will win a prize.
At each stop there will be games and prizes. There will be snacks at the beginning of the ride at MMMG and pizza and beer at the end at Magpie in Hongdae.
This is about a 15 km fun ride. It's not competitive and we will ride at a chill pace. We are looking for chill vibes here. Most of the riding will be on the Han river, but there will be a small amount of city riding to and from the river.
It's ₩10,000 to participate in the poker run. The fee gets you some beer, pizza, fun and a chance to win prizes.
We suggest that everyone wear a helmet and use lights on your bike. There will be beer and bikes. It is up to you to drink responsibly. Don't be a dummy.
You will be able to leave your bikes at Magpie in Hongdae if you don't want to take them home. However, they must be picked up the following day.
Let's ride!